We professionally build quality reticulation systems in Perth, Rockingham and Mandurah.
We are members of IAL (Irrigation Australia), are WGI accredited (Waterwise Garden Irrigators) and Electrically licenced to do the job right and we are fully insured for your peace of mind.
We have improved and built 1000's of systems for happy customers, including systems with bore water supplies and scheme water supplies, whether they are small courtyards, medium gardens or large landscapes.
Allwest Reticulation has years of experience and proven quality in Perth reticulation installations to provide you with the best possible solutions!
Contact us today for a free quote on reticulation installations!
Read on if you want some interesting snippets of information on sprinkler system types…
Match the System to the Garden
We don't play favourites on our products with particular accounts with particular companies, we stay up to date with the best equipment on the market so we can provide you with the best range of options and recommend the best options for your circumstances.
For example, with lawn sprinklers, if you have low water pressure or medium-sized lawn areas or have more clay in your soil or are on a steep incline, MP Rotators are one of the most efficient forms of reticulation, with low precipitation rates. For large lawn areas or for bore systems, Rvan heads on 3-inch pop-ups or gear drives are both efficient, sturdy. For average pressures and small to medium areas, Precision series heads are very effective and highly recommended. Then there are the old-fashioned pop-ups with standard spray for small to medium areas with good pressure. If you have a problem with car traffic, articulated risers and high lift pop-ups will fix your problems with damaged sprinklers. If runoff is an issue, controllers that cycle the spray will help you get the water penetration to the lawn.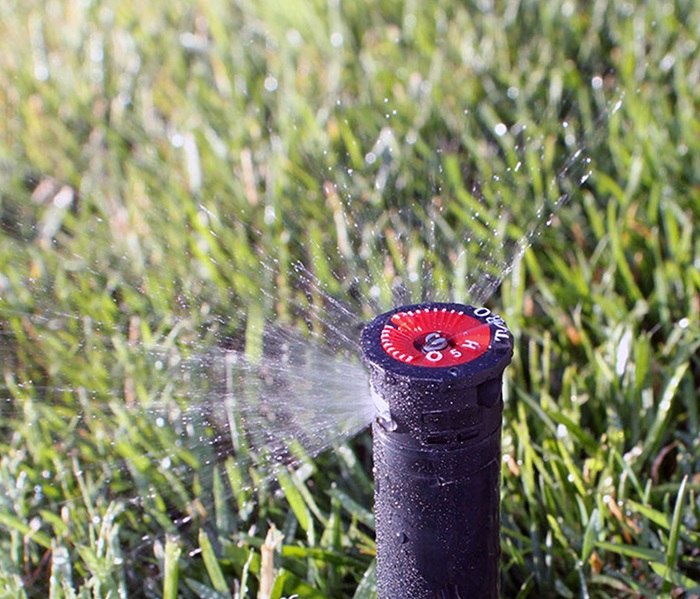 As you can see in this one aspect, there are a great many points to consider and we have done all the consideration and testing for you, we know the best options.
NB. Don't let anyone put LD poly into your lawn area – make sure it is PVC or Blue/Red/Green Line! Also… The pop-ups need to be at least 3 inches unless restricted in depth by concrete or gravel.
Controllers
There are many good solutions here, and some bad ones – but we don't deal in those. Generally speaking we just want reliable and easy to use, though in some instances smart controllers can save you a bit of water in the long run and are especially appealing if the Water Corporations rebates are running.
We have a few models that are sturdy and old fashioned that will still comply with the Water Corporations 2 days a week for scheme water and 3 days a week for bore water. Some of these models can have the face plate removed so if you want to take it to someone to get it programmed, you can. If there is a short on the system, they will blow a 1 amp fuse and cut the power down the line as a result. Simple and reliable.
On the other hand, some smart controllers will read and alert you to amperage anomalies. These controllers connect into your WIFI and you can operate them from your smartphone from anywhere in the world. They can talk to local weather stations and adjust their watering behaviour accordingly. You can put in a flow meter, attach it to the controller and have it alert you (or us) in the case of a watering peculiarity coming up. They read such problems as broken lines or sprinklers causing more water to flow through on that station than normal.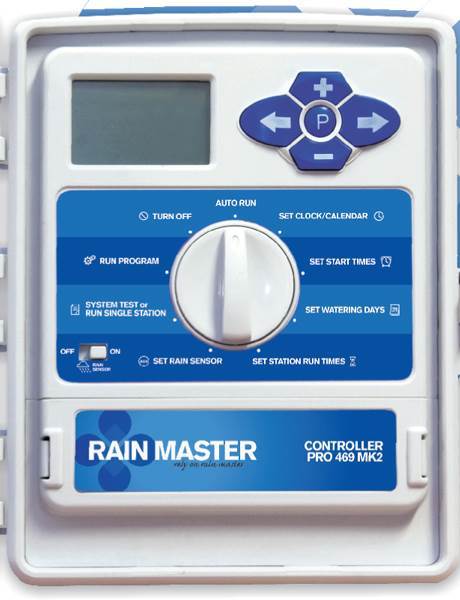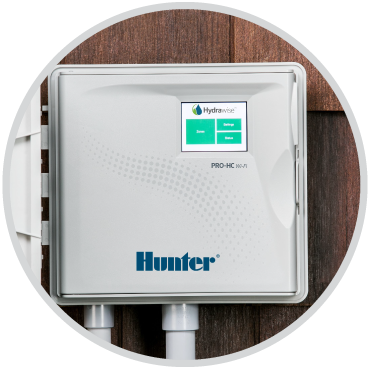 Garden Beds
For big spacious areas, you can do general overspray, not dissimilar to the lawn sprinklers. Because we are not working in lawn areas or under driveways or paths, we can use LD Poly, it's flexible and easy to work with ongoingly for your adjustments in the future if you ever want to.
Spectrums are a great option being movable and you can turn them off, and they allow a healthy flow of water through them so they don't tend to mist as easily as micro jets. They are not all created equal though, some brands are definitively better than others and by quite a margin ie. they get blocked by air and the heads blow off, buyer beware.
Micro jets are the classic solution in Perth, and they do a good job in some areas, particularly side strips, I love them for those. Dripline is often just a maintenance nightmare, I highly suggest to never use it in lawns. However in garden beds on low flow systems it can be useful, and bore dripline even better again with far fewer issues to do with blockage and damage I actually often find this to be a good solution in certain situations.
Pipe Lines
There is poly for the garden bed, pvc for the lawns and mainlines, Blue/Red and Green poly for irrigation mainlines, station lines, under concrete areas and of course for bore pumps and they all come in every different size. There are several different factors in deciding including terrain, pressure and flow. We will decide when we see the site or site map.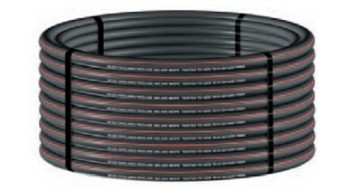 Water Supply

– Scheme or Bore

Some houses have smaller gardens and will never financially recuperate the expense of a bore pump and to them I recommend to just use the scheme water, unless you are willing to spend the money ecologically so as not to be a drain on the scheme water system. Make sure a savy licenced plumber does the cut in though, my favourite story to date was the reticulation guy who cut into the hot water pipes. To the rest of Perths medium and large garden irrigation prospectors, it is well worth considering a bore.

The price varies depending on depth and ground water type but it is worth while to consider as the garden can use 50% of your houses water consumption. One of my customers measured it out to closer to 95% – he was particularly waterwise in the home. You can do some quick math with that – for example, a house with 35 liters per minute, 4 grass stations at 10 minutes and 3 garden bed stations at the same will use 2800 liters per cycle, twice a week, so 5600 liters per week or 67,300 liters in 3 months of full use.

There are so many types of pumps and screens and constructions, that we should discuss on site.
Contact Us
Contact us and we will come out, have a look at your house and once we know what you want, we will quote up your system for you. Our pricing is competitive. Our systems are well built and durable, you won't need the 12-month warranty we supply but of course, if you do we will be there… And as a bonus, we're friendly! Call Allwest now!